WHAT IS A BLASTOCYST TRANSFER ROUTINE?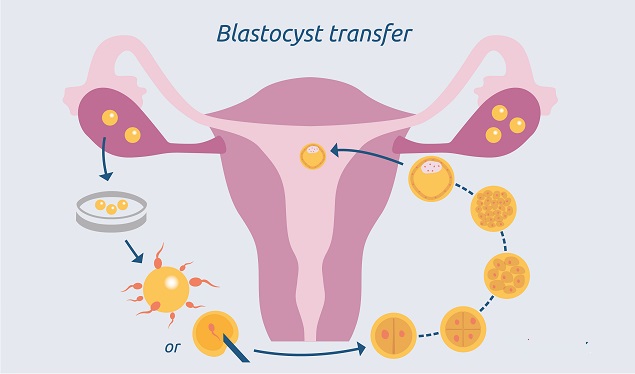 A technique called blastocyst transfer works in conjunction with a standard in vitro fertilization (IVF) treatment. Within four days of fertilization, a fertilized egg is transported to the uterus during traditional IVF. However, the likelihood of implantation is considerably increased by nurturing embryos for up to six days while allowing them to mature into blastocysts. The two best blastocysts are chosen by our embryologists to be put into the womb on the sixth day after a thorough evaluation of each one.
WHY CHOOSE A BLASTOCYST TRANSFER ROUTINE?
By bringing an embryo to the stage it would have been at if it had entered the uterus the traditional route, a blastocyst transfer mimics the normal conception process. Compared to pure in vitro fertiliztion (IVF), the process is far better.
Effective Timing
Traditional IVF procedures include transferring an embryo to the uterus before the lining of the uterus is ready to receive it. When it enters the uterus in a normal situation, an embryo is about six days old. An embryo and the uterus are placed in circumstances similar to those of normal conception during a blastocyst transfer.
RISE FROM MULTIPLE BIRTHS RISK REDUCED
An accurate barometer to gauge a blastocyst's health is the six-day mark.
A blastocyst is more likely to withstand uterine circumstances if it continues to grow well into its sixth day. Per IVF cycle, we can implant up to two blastocysts. Our embryologists carefully go through the available pool of blastocyts to select the top ones
WHAT ARE THE STEPS OF A BLASTOCYST TRANSFER ROUTINE?
A blastocyst transfer follows a similar procedure to an in vitro fertilization (IVF) cycle. The age of the embryo at implantation is the only difference between a blastocyst transfer and a standard IVF operation. An embryo is roughly four days old in the latter, but a blastocyst transfer requires an embryo to be six days old.
Egg collection

Fertilization

Embryo development

Embryo transfer

Pregnancy

Follow -Ups